Introduction
You would be forgiven if you were confused as to where the Renegade Krome RK-1 falls within the Badger lineup. While it's clearly part of the Renegade line of airbrushes due to its name, it seems as if it was a last minute addition not originally intended to be part of the Renegade lineup. Curiously, it's absent on the Badger catalog, the Renegade website, and it's missing its specifications on the Renegade page on Badger's own site. It's not a discontinued product so it's puzzling as to why no attention has been paid to its marketing on Badger's own sites.
Despite the above, the Krome RK-1 is designed to be a mid-tier airbrush with a focus on fine line and detail painting.
About the Badger Renegade Krome RK-1
The Renegade Krome is your standard dual-action, gravity feed, airbrush. Those who are familiar with the Patriot series will feel right at home with the weight, feel, and assembly of the airbrush. It appears to be mashup of their entry-level Patriot series and their Renegade series. Nearly every part is the same as the Patriot except for head cap, spray regulator, and nozzle. Essentially the front end of the airbrush. Everything else such as the needle tube and trigger tube are exactly the same.
Specifications:
Type: Gravity feed/Dual Action
Paint Cup: 7ml
Needle/Nozzle: 0.21mm & 0.33mm

The Renegade Krome RK-1 2-in-1 set comes with the airbrush itself, a needle stop (which we'll discuss later), a .21mm needle, nozzle, and spray regulator, and a .33mm needle, nozzle, and spray regulator. The Krome is machined in a smooth metal finish although not any different than their other metallic finish airbrushes. This airbrush is "Krome" in name only. Some images show the Renegade Krome coming with either a metal cap or clear plastic cap for the paint cup. Mine came with a standard rubber cap found on the Patriot which works just fine.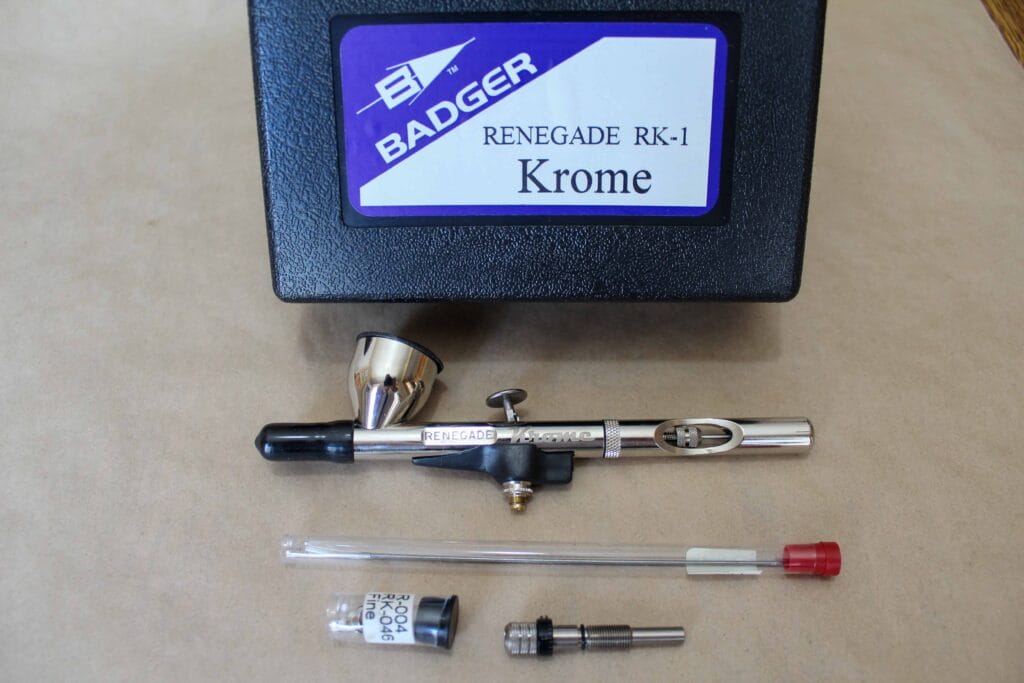 What I Like About The Renegade Krome
The Krome is nicely balanced and feels comfortable to hold. This is due in part to the finger grip included just above the air valve. Although a simple piece of plastic, it helps to avoid finger cramping during long spraying sessions. This can be easily unscrewed and removed if you wish.
The nose of the brush is also shortened (the distance from the tip to the paint cup) to allow you to get closer to your painting subjects. This is to it's benefit as a fine line and detail airbrush. Speaking of fine line details the smaller nozzle design and thinner needles do a great job in achieving that detail. It's often thought that nozzle size plays a more important role in fine detail spraying than needle size. As you can see in the images below the nozzles are delicate and finely machined. It comes as at a cost though as your paint, especially acrylics, will need to be thinned properly to avoid clogging. Avoid thicker paints and primers such as Badger's own Stynylrez. It will not spray at all. Mission Models also needs to be thinned a bit more otherwise it will get gummed up fast. To be fair, this would be expected behavior with any fine detail airbrush.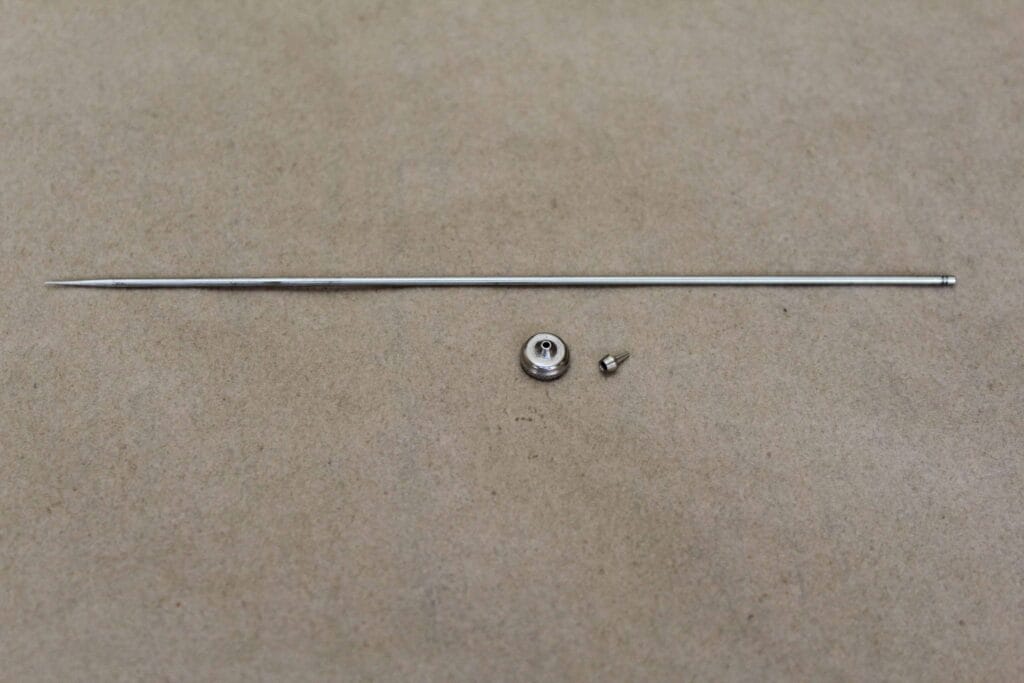 Another positive is the included and optional needle stop (seen below). This piece screws onto the back of the airbrush and acts as a backstop for the needle when the trigger is pulled back. This allows you to precisely dial in the paint flow you want and have the airbrush act as a quasi single-action. If you're black basing your models this is a great addition to ensure your mottling is consistent and helps avoid finger cramping. There's also a gold screw on the needle tube that adjusts the tension of the trigger action and is very responsive.
Finally, one of biggest positives about the Badger Renegade Krome, and all Badger airbrushes in fact, is their simplistic design and user friendliness. There's no internal rubber seals, no over engineered parts, and no wrenches. Badger markets their airbrush assembly as "finger tight" and it's a real boon to work with. See the disassembly below. At best the only things you'll ever need to remove are the rear handle, spray regulator, head cap, and nozzle. It's great to be able to quickly twist a part off, wipe it down, and tighten it by hand. While most other airbrushes have rubber seals on the front end, which get exposed to paint and thinner, the only rubber seal is on the rear handle which should never go bad.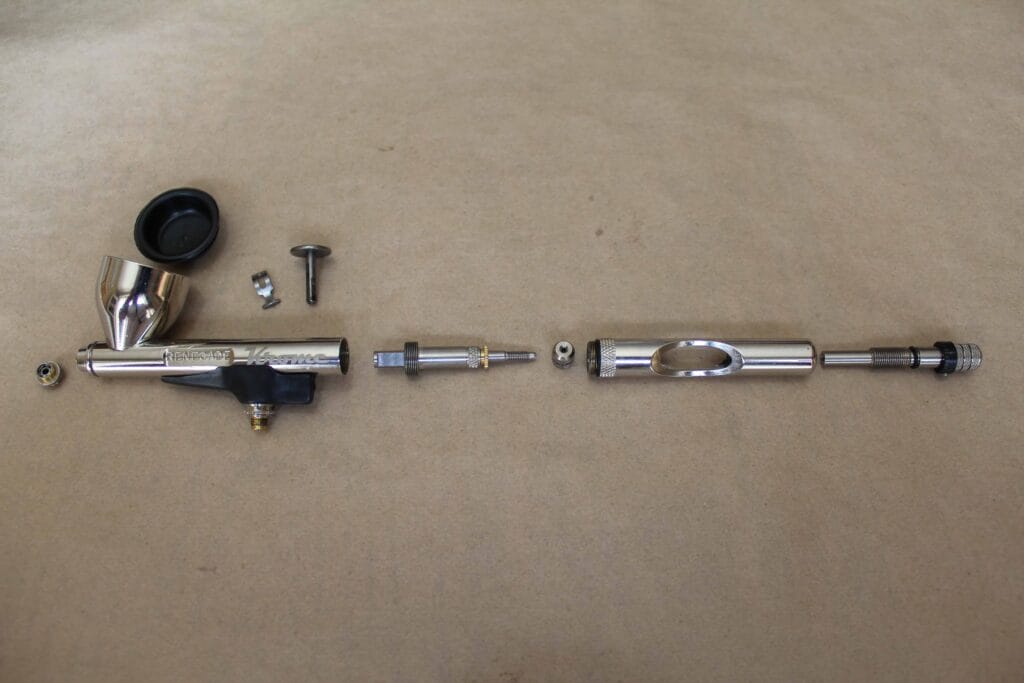 What I Don't Like About Badger Renegade Krome
As mentioned earlier, one of the first things I noticed about the Krome is the strong similarity to the entry-level Patriot series airbrushes. While the familiarity and design is an overall positive I was hoping for a more sophisticated trigger or trigger design. Instead you get a basic metal trigger as found on the Patriot series with the same two part design. To be fair, this appears to be standard across all their airbrushes.
Another thing I didn't like about the Renegade Krome is the clipped needle design. This was surely done to allow the trigger stop to be installed on the rear handle. This design however forces you to remove the rear handle in order to loosen the needle chuck and remove the needle. This just adds an extra step to cleaning and isn't something seen on the Patriot or even the SOTAR. Both of those airbrushes include a colored ball on the end which allows the needle to be removed independently of any other part.
Finally, the range of needles available for the Krome is limited to only the Fine (.33mm) and Ultra Fine (.21mm) which turns the Krome into a one trick pony. Other higher-end airbrushes such as the SOTAR include larger needle and nozzle assemblies to allow for a wider range of uses. This may not affect most users in the least bit but it is something to note.
Final Thoughts
Despite appearing as a sort of "black sheep" in the Badger airbrush lineup, the Krome delivers when it comes to fine line and detail airbrushing. It incorporates the best of Badger's assembly and design and is a very pleasing airbrush to use.
However, at it's price point (generally over $100) I question whether the value provided is worth the cost. A Patriot 105 can be bought for significantly less and has fine detail conversions easily available. So for beginners, I wouldn't recommend the Krome.
For more advanced users, a SOTAR 20/20 can be bough for just a little bit more. In fact the SOTAR can be purchased as a 3-in-1 kit which includes detail conversions and larger conversions. It also incorporates a better needle design. So in that instance, I wouldn't recommend the Krome.
Final Grade
It's hard to tell who the Krome would be for. I suppose I could recommend the Badger Renegade Krome RK-1 to users who want a quality detail brush used for a singular purpose, and also may prefer a larger paint cup. But it's hard to see this used a daily workhorse. Make no mistake though, the Krome is a high quality airbrush but there are better options available for most situations.